FXBus 1 Module 2 - a JFET Mu-Amp Module
Copyright 2000 R.G. Keen. All rights reserved.
---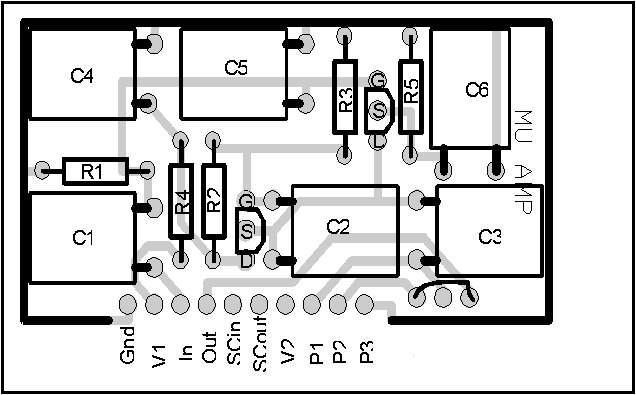 In contrast to Module 1, Module 2 has many fewer options. It's intended for one thing only - to get high gain from a pair of JFETs. This basic circuit was known from the days of tubes, when it was built from triodes, and was published by National Semiconductor in a JFET application note. Recently, it has been popularized by Jack Orman for guitar effects use as the "Mini-Booster".
The schematic is shown on Jack's site at http://www.muzique.com/amz, and the parts designations match the ones in that schematic.
About the only options beyond component values to deal with here are:
whether the input DC blocking capacitor (C1) is present, or a jumper put in its place; the input of this circuit normally sits at 0Vdc, so C1 only protects the circuit from OTHER circuits' DC levels or rolls off bass response.
how the jumper just under C3 is used; as shown, the jumper selects use of the external pot for variable gain; if its moved to jumper the middle to the right pad, the output goes directly from C3 to the output, no pot action happening.
Conventional wisdom is that J201 JFETs sound best in this circuit. Watch the pinouts - it's laid out for the J201, but some other JFETs have DGS in stead of DSG pinouts; solder accordingly!